Turn your clicks into customers with our Google Ads Marketing!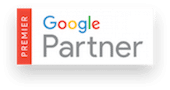 WE GUARANTEE SALES, NOT JUST TRAFFIC
See Results
See results in less than 24 hours
Take Control
Control your advertising budget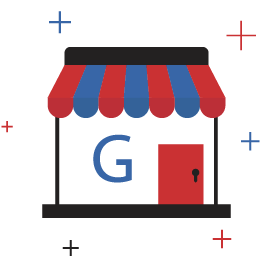 Local Market
Advertise to your local market
Right Target
Find people that make a purchase or engage your services
PPC or Pay Per Click advertising has gained popularity in recent years with many of the leading search engines adopting the method. Google Ads is one of the most popular PPC advertisers on the internet today. Below is an example of one of our happy clients where Light 4 Flash has helped them rank #1 on Google Ads for their intended keywords with high search volumes. This approach increased their revenue by 45%.
The success of any online advertising campaign is based on the quality of the marketing that gets done on behalf of the advertisers. When a potential customer finds your advertisement on a search engine results page, it automatically gives you an impression that your website is quality and the results are high in content and that the user will be able to reach the ultimate destination of your website. Thus, every visitor immediately clicks on the link to go to your website as opposed to the random links provided by other PPC methods.
Pay per click advertising is the simplest and the cheapest form of online advertising. However, there are only a few pay per click advertising providers available which means that there is not a lot of choice for web owners. It is quite possible to generate revenue from Google Ads (previously Google AdWords) using your own website, as there are many different ways of advertising with Google. If you are looking to advertise your brand or service without breaking your budget, then Google Ads is for you. You get a lot of advantages using Google Ads compared to other PPC methods, such as:
Instant advertising, get your ads up and running in less than 24hrs
Get traffic to your website immediately
Increase your sales and revenue in less than a month
Transparent advertising, only pay for the clicks to your website
Control your Google Ads daily budget
With all these said, it makes advertising pretty easy, but if you do not set the right campaigns you will end up wasting money and time using Google Ads, which will eventually give you the false impression that Google Advertising is not for your business!
So that is why at Light 4 Flash we ensure to create unique campaigns for your Google Ads account to bring you lots of sales, not just wasted website traffic.
Google Ads For Local Businesses (Google Maps)
Let's face it, almost everyone uses Google Maps these days to get direction to a destination and most importantly find what they are searching for. So imagine Light 4 Flash can create a unique ad for local search to attract a lot of people near your shop/office, how much more traffic you can get!
If you are running a local business such as a cake shop, a paint shop, music school, or any other types of business, then you would obviously want to attract a lot of people who stay near your location, right? Google Maps ads are a great way to get your message delivered to the people who are constantly looking for your services.
This way, a business can not only target its market on the basis of location, but the internet users
who are most likely to be interested in the products and services that your business offers. This may also mean that the company can reach a wider number of people than if they were to advertise their product/service on their own.
Above is an example of Google Map search results for a local violin school in Singapore. When a user searches for the term "violin lessons singapore", the Google Maps search results show the ad that we have optimised it to be shown locally.
So this is a great opportunity for any business to get noticed by users who are looking for their services. Afterall Google is about getting you the best results related to what you are searching for.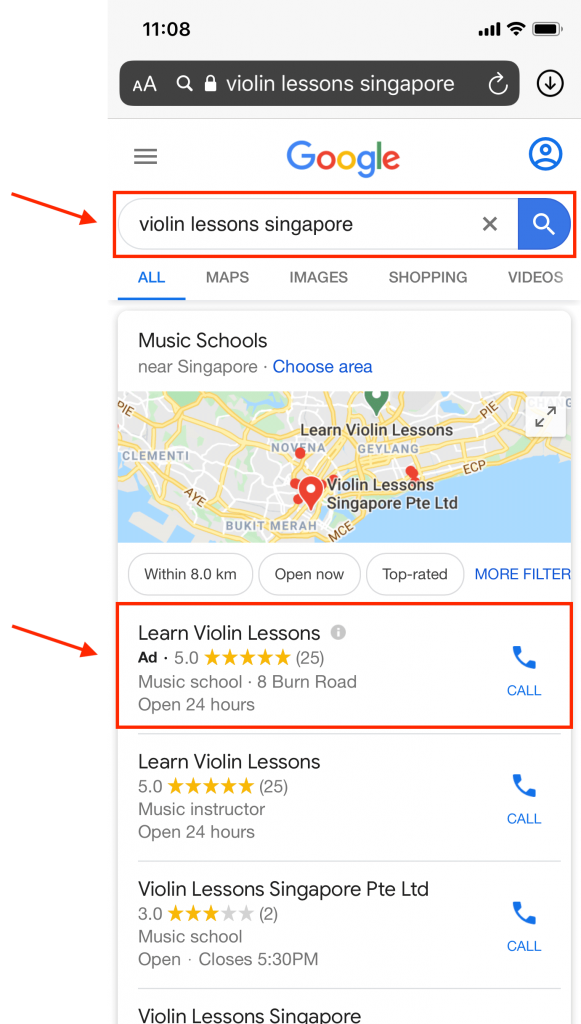 Get Your Sales Running Now
Since Google Ads is such a popular method, it makes sense for your company or online business to try and improve the services that you offer. With the right campaigns that Light 4 Flash set up on your site, you can capture more traffic and thus you will be able to improve your leads and sales.
It is important to remember that in order to start your PPC campaigns, you need to hire a professional website designer and pay per click advertising experts. Get in touch with us for a free proposal and a free chat over your business Google Ads needs.